Last time we discussed how to get the right message across on social media in order to get their attention. Now it's time to look at how you attract people to your social media profiles and build your social media following.
There are two sides to the audience building argument.
One side will tell you to focus on quality, build your following slowly based on quality of connections and a real affinity.
The other side will tell you to focus on quantity, building your following quickly with paid social media campaigns, buying likes and followers and creating sensational content to 'go viral'.
You will know what works for your organisation…
You will need to gauge what feels right, how much time and money you want to spend on achieving the 'numbers' – how many page likes you have on Facebook page, followers on Twitter or your Linked In company page.  You may prefer to focus on building your audience slowly and look at the 'quality' metrics: engagement – comments, retweets, shares – instead.
But you should know that these options exist, i.e. through paid advertising or 'likes' campaigns, if only to analyse others' social media following more dispassionately.
Remember, though, that anyone promising you instant success is trying to sell you something…
You want to go for quality and build your following 'organically'
It is still possible to build your audience on social media through content marketing and organic growth, by regularly posting a variety of content that is relevant and appealing to your target audience (or customers). Bear in mind that what you post on social media will depend on what type of business you run.  There are many different types of content for business to business (B2B) and business to consumer (B2C) companies, and most of it will be familiar to you.
The diagram below charts the most common formats for content marketing.
Think 'person to person', not 'business to business'.
What you'll find, even when you are selling to another business person (as opposed to a consumer) is that it's 'B2B' for the first five minutes only. It soon becomes you speaking to another person, another human being, and seeing them as an individual.  Everyone in business knows that this is what relationships are based on, and you'll be on first name terms within the hour.
On the B2C side, with consumer marketing, the people who follow brands on social media want to be rewarded in some way. They want offers, deals and coupons or to know when the 'flash sale' is going to be. There's very little brand loyalty these days, so think about different types of content which could be appropriate for your audience.
This quote is about Twitter, but I like it because it's relevant to any social media platform:
"…humanize it." Talk like a human, treat your readers like a human and empathise -this is how you get people's attention and start to build trust with them. Be real!
You want to go for quantity and grow your following quickly
All the major social media platforms have launched advertising tools in the last few years.  These are not to be underestimated, either in terms of their targeting capabilities or the potential reach they offer you, regardless of geography.  If you are familiar with the principles of display advertising (picture or video adverts) and pay-per-click (PPC) you will understand the advertising tools immediately.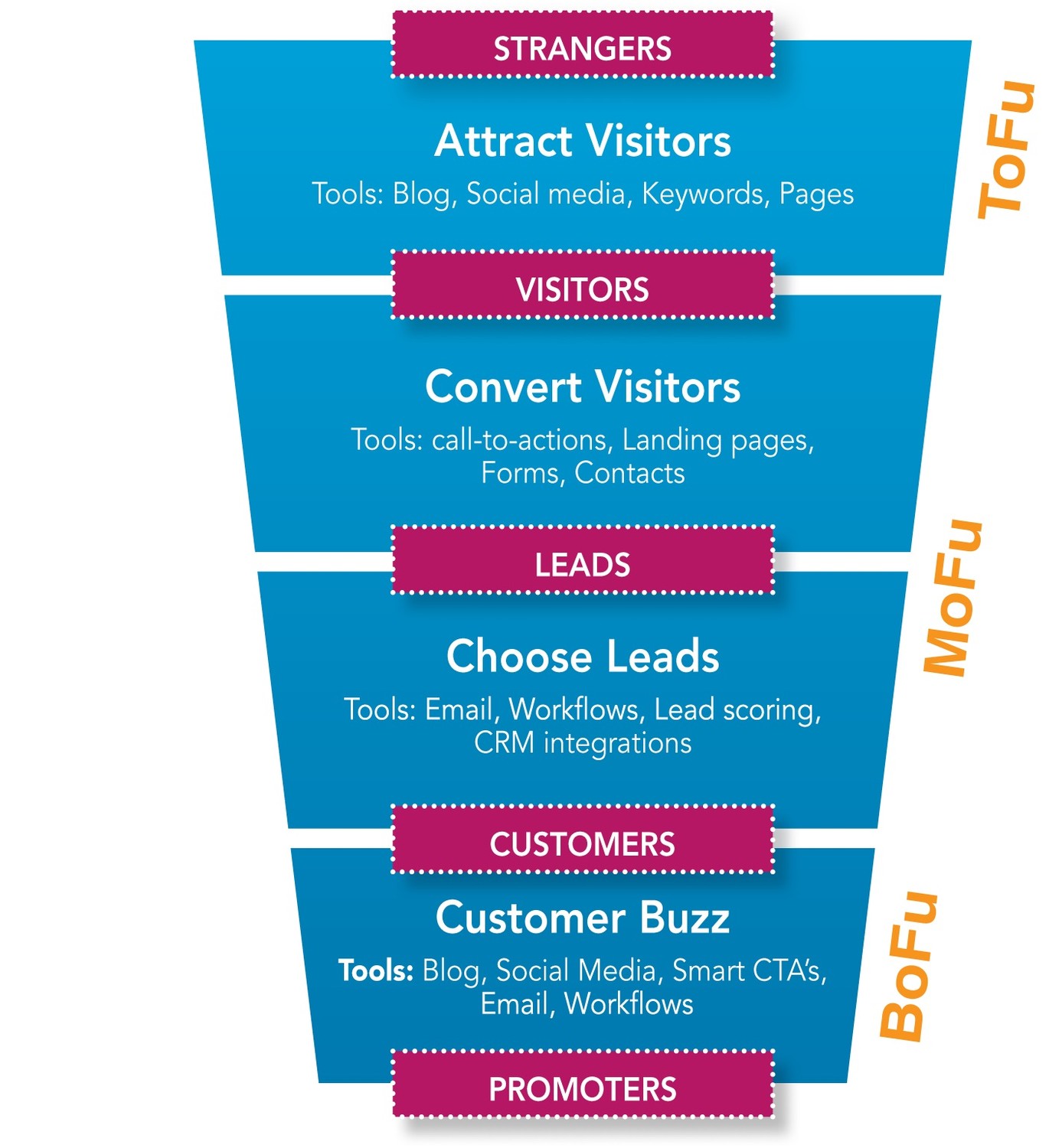 For those who are new to paying to reach new 'customers', both operate on an auction model.
With paid ads, the most exposure (impressions or reach) goes to the highest bidder for that target audience.  It's a fair system, in as far as you know either how much (the maximum) you are prepared to bid for either a click (through to your website or product page) or impressions, the number of people the ad will be presented to (sold per mille/'000).
When you are buying ad campaigns on each platform, you'll be asked to choose your goals, based on the stage in the inbound funnel (see at right) / customer journey you want to reach your customer at.
Basically, you will be looking for Awareness, Consideration or Conversion.
Paid ads can help you reach target customers beyond your networks, sector, industry, location or language.
Some ads will present your picture ad, others may have a few lines of copy and Call to Action.  The success rate on all social platforms is low: typically the click-through-rate (CTR) will be lower that 0.5% or the people you are targeting.  You then have to follow up in some way to convert them.
Targeting can be based on the common characteristics of you target customer (or buyer personas) or you can create 'look-alike' target audiences based on the custom tools within the platform.  For more information about the paid ad tools on each platform, please see our blogs about each platform.
Buying followers can be done in a couple of ways.
The first option is to respond to a direct approach, normally on social media, offering to sell you followers.  These are normally sold per thousand.  Buy followers at your peril.  They won't engage with your content (posts) and may distort your page analytics (metrics) significantly.
Accessing a pre-existing 'community' that has been pre-built by an agency can produce an impressive number of page (and post) likes.  Some will have millions of members who are, evidently, very obedient and do as they are asked.  This is a tactic if you need to demonstrate interest in your brand or products, perhaps to an investor, but it is not cheap.  Or particularly sustainable.
Am I against 'paid' social media?  No.  I think the targeting and advertising tools have the potential to put you in front of people you'd never reach otherwise.  I think the best combination is paid + organic, still delivering as much quality content as you can to your social media following.
But I would avoid buying followers, in the same way that I'd avoid buying contact data.  It is poor quality and unlikely to convert.
Whether you want to build a social media audience that delivers 'quantity' or 'quality', we recommend you:
1. Identify your target market – you may already have some information, but the more you know about who you're trying to target, the better the social media platforms will support you. They have targeting tools built within them based upon the data they gather from users, and in the paid versions these are really sophisticated.
2. Know what they're looking for – once you start to interact with them you'll know what questions they ask and also what kinds of things they interact with.  Taking time to understand what your target customers care about helps you talk about topics they are interested in.
3. Attract and engage them – by being interesting, engaging and relevant, you'll start to attract people to your profiles and pages.  Use the language they understand and use themselves and your posts will be relevant to them.
4. Build trust and earn leads – doing so will encourage people to visit your website, subscribe to your mailing list and download the lead magnet you've created in exchange for an email address. They WILL ring you or send you a direct message, because it happens all the time.
5. Measure and improve. Think about what you're going to measure, because big numbers don't always mean anything. The quality of interactions is what matters for a social media following who will ultimately buy from you, or recommend you to others.
Social media is great for weak links, so don't feel too disheartened when things don't go your own way immediately and don't expect too much of people.  After all, you're not face-to-face, so you can't rely on non-verbal cues or the opportunity to have a proper conversation to build rapport.
At the bottom of the inbound funnel, once somebody has become a customer, it's a great way to keep in touch with them.
Turn them into an advocate and they will make sure your posts, comments and shares 'move'.
We hope you've enjoyed Build Your Social Media Following versus Buying Reach and Followers.
Why not check out the other blogs in the series:
If you like video, check out our recording of this fascinating topic and learn from these amazing thoughtleaders.
Our new online programme Content Marketing Conquered is designed with you in mind. Based on our successful workshop programme and latest strategies, we guide you to the top in 6 easy steps.
Photo by Fleur Treurniet on Unsplash